What a way to spend the day! Playing with toys and your friends, hanging out getting treats and attention!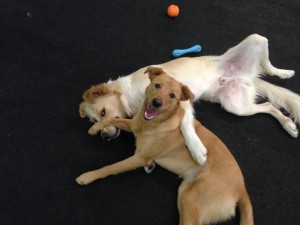 Why leave your dog home alone when he can be at Coventry's Day Camp?
Drop off time begins at 6:30 am.  Camp activities begin at 8:30. Dogs are sorted into groups depending on their temperament, play style and energy level. Play groups are rotated throughout the morning to ensure that play stays happy and friendly! A noon-time break to work on Kongs or a nap is provided and then at 1:00 the games begin again! Throughout the day, good manners, like sitting politely, waiting for a treat, taking treats nicely, taking turns going through a doorway and no barking are reinforced and encouraged! Pickup time begins at 4:00 pm.
For safety, dogs run 'naked'! That is, they don't wear collars, which can easily catch on equipment or the mouths of other dogs! Each dog has individual storage for collars, leashes, food and kongs.
All campers must have a completed application and proof of current vaccinations. To ensure the safety and happiness of all campers, each dog that is applying for day camp will be evaluated.  Our evaluation consists of determining the comfort of thedog with staff, being handled, being crated, and interactions with other dogs. Dogs exhibiting aggression toward people or dogs or anxiety are not appropriate candidates for day camp. Evaluations take approximately 30 – 40 minutes – there is no fee for evaluations. Dogs that have not attended Coventry day camp for more than 6 months will need to be reevaluated.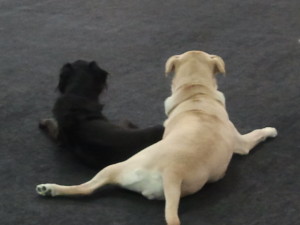 Puppy Day Care
If your schedule is too tight to meet the needs of your young puppy, we can help! We offer specialty puppy care. Puppies play separately from adult and adolescent dogs in a safe, clean, secure and supervised environment. They receive frequent potty breaks and additional nap times! We provide playmates of appropriate size and age! Additionally, we will reinforce good behaviors, encourage bite inhibition and work on socialization!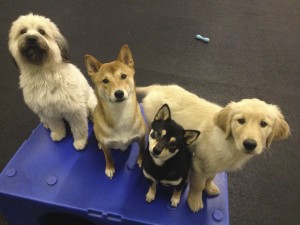 For the REALLY busy puppy parent, we offer PUPPY PREP SCHOOL! Check it out on our Puppy Prep School and  Day Training page!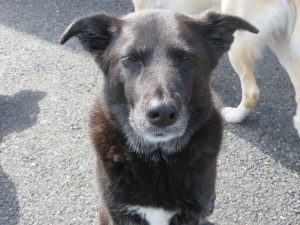 Senior Day Care
Older dogs can enjoy Day Care too. Many senior dogs need extra potty breaks during the day and find the presence of a human comforting. Here at Coventry, we have the "Lounge Hounds" area. Your senior dog can spend the day being pampered and petted, without being exposed to the rigors of camp.
Rates
Day Camp rates are: $36 per camp session. Multiple session packages are also available – these packages need to be used within 90 days of purchase; 5 camp sessions for $33/session; 10 camp sessions for $32/session; 20 camp sessions for $31/session.  Discounted monthly packages are also available – these packages need to be used within 30 days of purchase: 5 camp sessions for $31/session; 10 camp sessions for $29/session; 20 camp sessions for $27/session.  Additional Discounts for our military clients and multiple dogs are available!
We accept cash, check and credit card.
Policies
All dogs must be current on the following vaccinations: Rabies, Distemper, Parvo, and Bordatella.
Females in season may not participate in day camp.
To ensure the safety, health and comfort of all of our campers, we respectfully request that if your dog is showing signs of illness, that he/she not attend camp until they are feeling better. Signs of illness include vomiting, diarrhea, coughing, etc. If your dog has a contagious illness (i.e., kennel cough, Giardia, etc.), he/she must have a note from the Veterinarian that they are ready to return.
No dog with a contagious illness will be accepted for any service until cleared by a Veterinarian.
Drop-off/pick-up
Morning drop-off is 6:30 am to 8:30 am. Pick-up is between 4:00 pm and 6:00 pm. Camp ends at 3:30; Early pick-up can be arranged, but the full day rate is applied. Late pick-ups will be surcharged at $10.00 after 7:00 pm.
Reservations
Be sure to make your reservations before the end of the current week, if you want to be sure to get the days you need! You can make your reservations through your Gingr account, by email (daycamp@thecoventryschool.com) or by phoning us (410-381-1800 extension 1).