Please Note: Due to circumstances beyond our control we are sorry to say that at this time we are unable to offer Grooming Services at The Coventry School.
If you are looking for quality, you will find it at The Coventry Spa. We offer you the convenience and expertise of our master groomer, Barbara Klein. With more than 25 years of experience, she offers a full range of services, including a wide variety of breed- specific clips.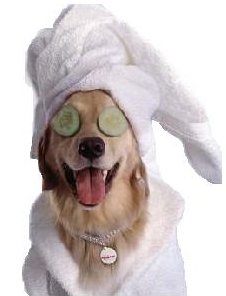 You will find our facility sparkling clean and smelling fresh! We groom one dog at a time so that no dog is left unattended on a grooming table. We use handheld dryers only; dogs are never cage dried. Dogs awaiting pickup are held in ex-pens in our climate-controlled facility in full-view of staff. Dogs are pottied in a fenced and secured area with a non- porous surface that is cleaned daily.
For safety, we do not sedate dogs or accept those that have been sedated. We rely on patience, kindness and our knowledge of dogs to make even the most reluctant dog a grooming success. We will work with you to teach your dog to relax and enjoy grooming.
Just for Puppies! Our Puppy Packages ensure that our young clients learn good, lifelong grooming behaviors. We do an introduction to clippers and scissors to make haircuts less stressful. The package includes: a weekly nail clip and gentle brush out; and every 3 weeks until the age of 6 months a bath, clip, blow dry and brushing. (Note: Full clips are not included.) Cost is $150.
Our Spa/Play Days allow your dog to enjoy Day Camp for part of the day and grooming for the rest.
Our products – We use shampoos with natural ingredients and no harsh detergents or chemicals. The quality products we use are available for sale in the Coventry Corner Shop if you would like to use them at home.
Hand Stripping & Show Grooming – Is available for select breeds, so please check with with us about your needs.
Questions & Reservations
We are always willing to answer questions about your dog's grooming needs and help you determine an appropriate schedule.
Appointments are required. To schedule an appointment or contact us, email
grooming@thecoventryschool.com or call 410-381-1800. All rates are based on a $65 per hour fee. Please call or email for an estimate.