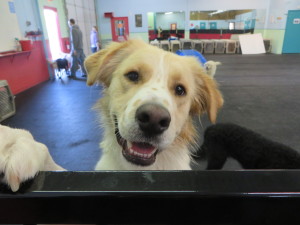 The Coventry School, Inc. is the proud recipient of the:
2014 BEST OF COLUMBIA AWARD FOR PET TRAINING!!!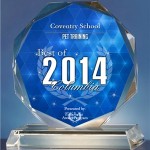 GOOD DOGS START HERE!
INTRODUCING: 3-WEEK CLINICS FOR SPECIFIC BEHAVIOR PROBLEMS! 
   Walk Nicely!! (See class description below.)
   Don't Jump on Me! (See class description below.)
   Come Here!! (See class description below.)
SOCIALS:   Please Note: there will be NO Socials on April 30; May 14 and May 28
PUPPY SOCIAL: 10:15 AM Saturdays 
A tired puppy is a happy owner! Puppies are invited to a  forty-five minute play fest every Saturday at 10:15 am. In addition, puppy parents get to socialize with other dog lovers over coffee and donuts in addition to learning a bit about appropriate play! Puppies must be between the ages of 10 weeks to 5 months. Puppies older than 5 months are invited to Teen Socials. Socials will be offered each week for forty-five minutes. First timers please pre-register online (you will not receive a confirmation) and bring your puppy's updated vaccination records. Tuition = $15 per week will be paid at the door.
TEEN SOCIAL: 9:00 AM Saturdays 
Is your teenage dog driving you crazy? Want to have a quiet Saturday? Then bring your dog for a one-hour romp every Saturday at 9am! In addition, doggie parents get to socialize with other dog lovers over coffee and donuts in addition to learning a little bit about appropriate play! Dogs must be between the ages of 5 months to 2 years. Dog and people friendly dogs only, please! Socials will be offered each week for one hour. First timers please pre-register online (you will not receive a confirmation) and bring your dog's updated vaccination records. Tuition = $15 per week to be paid at the door. 
PET TRAINING CLASSES:
In recent years, dog training has moved beyond the out-dated concepts of being "alpha" and thinking in terms of "wolf pack theory". Educated professionals no longer encourage the need to 'dominate' an animal to train them. Efficient training techniques follow the lead of animal and marine mammal trainers. Coventry's classes are designed with this in mind, to effectively and efficiently train you and your dog, improve your relationship and let you have fun! Is your dog able to do all the things you dreamed he would? Walk nicely on a leash? Sit for greeting? Come when called? Respond to his name? We can help you with that! Let's get started!!! SCROLL DOWN AND SIGN UP NOW! *REFUNDS are given only if requested one week prior to the class start date.
Clinic: Come Here!
Having trouble with a dog that just won't come when called? Want a dog that will come no matter what? Then this class is for you! Take our 3-week clinic that focuses on the fundamentals of a good recall.  All classes are one hour. Tuition = $100.  
Clinic: Don't Jump on Me!
Troubled by an overly enthusiastic greeting from your dog?  Do you want a dog that will greet you and your guests safely and with manners?  Then this class is for you! Take our 3-week clinic that focuses on the fundamentals of proper greetings and control. All classes are one hour.  Tuition = $100.  
Clinic: Walk Nicely!
Tired of getting pulled down the street? Want your dog to walk politely at your side? Then this class is for you! Take our 3-week clinic that focuses on the fundamentals of a loose leash walking. All classes are one hour.  Tuition = $100.  
Puppy Kindergarten
Start your puppy out on the right paw with a class designed for his needs! This class focuses on providing good socialization experiences and teaching attention and focus, bite inhibition, walking on a leash, good manners, sit, down, control yourself and come! For puppies up to 5 months of age. This class runs for 8-weeks. All classes are one hour.  Tuition = $200.
Beginner
The beginner class is the perfect start to your dog's formal education! This class will teach sit, down, stay, wait, come, walk nicely on leash, leave-it, targeting and go-to- mat. In addition, basic manners will be covered and you will introduce both hand signals and voice commands. As the class progresses, distraction training will be added. For dogs 5 months and older. This class runs for 8-weeks. All classes are one hour.  Tuition = $200.
Jumpstart
Are you ready to Jumpstart your dog's education? Whether your puppy needs to master the basics or your older dog needs to polish up a few things before moving on with his education, this 5-week class is perfect! Work on the essentials like: stay, wait come, leave-it, go-to-mat and walk nicely. Pre-requisites are Puppy Kindergarten or some experience with a beginner class. Additionally, this class prepares handlers and dogs who have previously taken punishment-based training methods elsewhere to switch to positive reinforcement training. This class runs for 5-weeks. All classes are one hour.  Tuition = $125.
Wonder Dog!
Did you think your training was complete? Not yet! The next big step in your dog's education is making him a Wonder Dog! This class focuses on adding distance and distractions and increases your dog's abilities. Your dog will learn new concepts such as 'heel' while focusing his attention on you instead of the environment as well as other practical tasks. We will introduce emergency cues that will have your dog responding quickly, even while in motion. Future off-leash success depends on the reliability of your dog's response to cues (i.e., sit, down, stay, wait and here) despite increasing distance and distractions.Wonder Dog! is open to dogs who have completed Beginner or Jumpstart classes. Evaluations for class readiness will be provided for graduates of other programs. This class runs for 6-weeks. All classes are one hour.  Tuition = $175.
Dogs Unleashed!!
"We don't need no stinkin' leashes!!!" Finally! This is the class that you have been waiting for! Your dog is going to earn his/her college degree! Did you dream that one day you would be able to walk with your dog without having to use a leash confident that he would be safe? Imagine your dog coming when called, even if there is another animal outside and the front door was accidentally left open. Picture yourself being able to stop your dog with a single word, even if he is running across a street! In this six week course, we will help you attain on off-leash reliability. Fun and fast paced exercises that increase difficulty by increasing distance and distraction will get you the Super Dog that you always dreamed of! Some exercises will be outside, weather permitting. Registering dogs must be Wonder Dog! graduates. This class runs for 6-weeks. All classes are one hour.  Tuition = $175.
SPORTS AND SPECIALTY TRAINING
Kranky K9s
Is your dog KRANKY with other dogs? Dog to dog aggression creates serious problems for owners. Owners of "Kranky" dogs suffer embarrassment and sometimes even physical injury as they attempt to control their dog's outbursts at the sight, sound or even smell of another dog. Kranky K9s is a specialty class that is taught by multiple knowledgeable and patient instructors experienced in handling aggression in a classroom setting. The classes will focus on calming techniques, teaching alternative behaviors and handling methods. This class is limited to 6-dogs and runs for 8-weeks. All classes are one hour.  Tuition = $350.
Kranky K9s: Out and About
Graduates of Kranky K9s can move on to our new Out and About class. This outdoor class focuses on strengthening all of skills learned in Kranky K9s and putting them into real life practice. Walk your Kranky K9 through our reproduction of the common situations that you struggle with everyday, and learn how to handle them successfully! This class is limited to 10-dogs and runs for 6-weeks. All classes are one hour.  Tuition = $250.
NoseWork
The ultimate mental exercise for your dog! Dogs have an amazing sense of smell and a natural desire to hunt. This new and exciting sport is designed to develop your dog's natural scenting abilities by using their desire to hunt and their love of toys, food and exercise. It's a great way for your dog to have fun, build confidence, and burn lots of mental and physical energy. All your dog needs is a nose! Levels 1, 2 and 3 run 6-weeks. All classes are one hour.  Tuition = $150.
Intro to Nosework 1
Nosework 2 – Intro to Odor
Nosework 3 – Advanced
Rally FUN-damentals!
Rally is an interactive dog sport where the dog and handler move from station to station completing obedience exercises. Rally will help you to practice and advance the skills learned in your previous pet training classes. Teamwork and fun is emphasized! The goal of this class is to introduce Level 1 Rally exercises and build a positive working relationship between dog and handler.  Dogs that have completed a minimum of Wonderdogs! are invited. Rally FUN-damentals II is open to all students who have completed FUN-damentals I and wish to improve their course skills.  These classes run for 6-weeks.   All classes are one hour.  Tuition = $150.   Rally FUN-damentals I
Rally FUN-damentals II
PUPPY PREP SCHOOL
Behavior problems are best treated with prevention and experts agree that to grow into a well-adjusted adult, puppiesbetween the ages of 2 to 5 months, need to be socialized to all the things that they will encounter during their lives. They also need to be mentally stimulated with training, learn manners, behave appropriately with other dogs and be well exercised! But who has the time to do all of this?! WE DO! Enroll your puppy in Puppy Prep-School, where he will spend his day playing in camp, be given many socialization opportunities and be actively trained as part of our specialized program where he will learn good manners and necessary life skills. Puppies will be taught foundation behaviors -"sit", "down", "wait", "come", "leave it", "doorway manners" and "loose leash walking". Additionally, each puppy will learn self control, acceptance of handling, not to puppy nip, how to "play nice" with other dogs, and even how to be alone! Don't leave your puppy home in a crate all day, wasting valuable brain development time! Puppy Prep School is a month-long program and will be 'in session' three times per week. The 4-week duration of our program can be extended to meet your day camp and training needs. At the end of each week, you will meet with the trainer to learn and practice your pup's new skills! Included in the program are: 12 days of specialized puppy camp; nine hours of individualized training sessions (over the course of 4 weeks); and private meetings with a trainer (i.e., initial consultation, progress meetings and closing session); discount on additional camp days and a $50 discount on a followup Puppy Kindergarten or Headstart class. For pups ages 2 to 6 months. Call us for more information!
DAY TRAINING
What is Day Training? It is a specialized program for adolescent and adult dogs. With today's busy schedules, not everyone has the time to devote to training their dogs to be well-behaved companions. Training takes skill and the patience to practice until the behavior is well-established and reliable in different situations. Our trainers can do it for you! We will create a specialized program to fit your training needs. Your dog will attend day camp and have scheduled training sessions throughout the day with our skilled trainers. While you are at work, school or play your dogs are exercising and learning! We will work to establish the behaviors that you want, reliably, efficiently and positively. Throughout the program, you will schedule sessions with our trainers to help you to use the skills your dog has learned. Because each program will be individually designed, the duration will be determined by your training goals. Call us for more info and to have a program designed for your dog!
PRIVATE TRAINING
If you can't make our classes, or you prefer to learn privately, we'll be glad to accommodate you. A private training session deals with basic training problems like jumping, pulling, puppy nipping, not coming when called, destruction, barking, housebreaking, counter-surfing and a host of others. Sessions are an hour in duration = $125/hr.
BEHAVIORAL CONSULTATIONS
A behavioral consult is a private session that focuses on specific behavior problems related to fear, anxiety, aggression (to humans and/or dogs) or compulsive disorder. If you are experiencing this type of a behavioral problem with your dog, a private behavior consultation is the appropriate option.  These types of behavior problems go beyond traditional training and require the expertise of a qualified behavior professional. A consult is usually between 1.5 and 2 hours in length and includes collecting a very detailed history of all aspects of a dog's behavior, assessing the dog, implementing training and developing a plan. Consultation cost = $225; follow-up visits = $150.
When reserving a behavioral consultation or private training session, a credit card is required to secure your appointment. Should you need to cancel, you must notify us 48 hours prior to your appointment, or a $50 cancellation fee will be charged to your card. Your card will only be charged if you fail to notify us. 
UPCOMING SEMINARS!
Out of the Lab and Into the Field: Performance Dogs in the Real World 
An advanced level seminar presented by Bob Bailey and Parvene Farhoody
Advanced training, simply put, is the excellent application of behavior principles.
Dedicated trainers routinely attend seminars in hopes of reaching this level of training by increasing their knowledge base and sharpening their skills. Too few seminars however, offer the opportunity to develop those skills necessary to more effectively and efficiently apply operant technology.
This seminar provides the training professional with a thorough understanding of operant technology that is essential to achieving consistent behaviors, faster and more successfully. If you are ready to advance your skills to accomplish training tasks that you only dreamed of, this seminar is "the one" to attend. Challenge what you know and motivate yourself to achieve greater results.
Join the illustrious Bob Bailey and Parvene Farhoody for an intensive two-day seminar/workshop. Filled with fascinating new content, this seminar is designed specifically for those who's work requires complete reliability. Performance dog mistakes can be very costly and dangerous. Whether for search & rescue, scent detection, agility, advanced obedience, hunting, police or assistance work, the outcome must be an excellent standard of performance.
This is "how to" seminar encourages you to ask yourself what could you have done better, faster, more reliably. It will provide the answer to those questions in detailed information about how to use teaching mechanisms to train behaviors to a higher standard of excellence.
This seminar will cover the latest topics in applied behavior analysis including: response strength, resistance to extinction, persistence of behavior in context shifts, response cost, behavioral economics, matching law, stimulus control, stimulus/response generalization and more.
Topics Include:
Motivation & Selecting Reinforcers
Errorless Learning
Accuracy and Speed
Stimulus Control
Generalization
Steps in Systematic Training – when to shift criterion
Fluency vs. Proficiency
Distraction and Persistence
Recognizing Stress
Selecting a Performance Dog
Stories from the field and video
To demonstrate the principles being discussed, Bob and Parvene will observe pre-selected training teams work their already skilled dogs on new behaviors and provide on the spot guidance and feedback. Problem solving will range from motivating detection dogs to using Pavlovian conditioning to create great agility performances in distracting ring settings.
As a bonus, Randy Hare will also share his vast experience with working dogs. Randy has been challenging police/protection/detection trainers to be better, kinder and more effective for the past 25 years. By applying a sound understanding of behavior principles, Randy developed specially designed scent boxes, to increase motivation and efficiency in detection training. Randy will take the stage on Saturday evening to demonstrate and discuss his dynamic system, which covers every aspect of the scent detection task: from foundation skills to working in highly distracting environments. This is a rare opportunity to watch, learn and ask questions of this accomplished trainer.
Dates:April 30 and May 1, 2016
Registration: THIS IS NOT A WORKING SEMINAR.
WE WILL BE UNABLE TO ACCOMMODATE ATTENDEES DOGS IN THE BUILDING.
Saturday 9:00am – 5:00pm ~ Dinner break: 5:00pm – 6:30pm
Continuing Saturday Evening with Randy Hare: 6:30pm – 8:30pm
Sunday 9:00am – 5:30pm
Cost:
2 Days $375
Early Bird registration (before March 15) $325
Saturday Only: $250
Sunday Only: $190
To register, please go directly to this site:  http://behaviormatters.com/seminars/